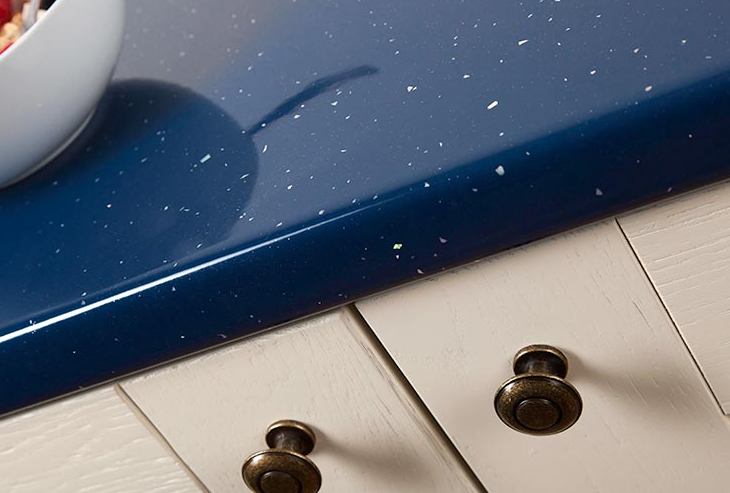 How To Get A High Gloss Finish On Your Kitchen Worktops
In this article we will be exploring how to get a high gloss finish on your kitchen worktops in the hope that you get so sick of doing it yourself you call the experts in, Foreman Snags!
So, let's face it, we all love shiny things. They look better in most situations. That's a fact.
Maybe it's the sparkling diamonds on your ring or simply a gorgeous white high-gloss kitchen.
We spend so much time and money beautifying and upgrading our homes.
But we sometimes overlook the fact that the kitchen is the busiest room in the house.
Therefore, it will be subjected to great deal of wear and tear with it being the connecting point of your home.
It's important to keep in mind that your chosen kitchen design and materials are easy clean and maintain.
They might just require some TLC.
It doesn't matter if you spent a lot of money on the finest materials and finishes.
Fail to maintain them, you can bet they'll lose their shine that sold you in the first place.
Instead of looking beautiful and clean, you'll have yourself a warm down, aged kitchen for you family and guests.
Choosing The Right Kitchen Worktops
Choosing the right kitchen worktop is only one of several major choices you'll have to make.
The majority of homeowners choose a matte or high-gloss kitchen finish.
Each finish has its own seduction for homeowners.
If you're going with a high-gloss finish, keep in mind that this sort of finish may be vulnerable to wear and tear.
Such as:
Fingerprints
Scratches
Engravings
And other marks, particularly darker-coloured surfaces.
However, it should not deter you from choosing this finish.
You just need the right cleaning know-how in your arsenal to tackle everyday kitchen use.
The following are the three maintenance components of an easy high-gloss finish:
Cleaning solution
The Best Cleaning Device
Correct Cleaning technique
The following is a discussion of each of the aforementioned variables for your cleaning in the kitchen.
What Is a Gloss finish?
Glossy paint is preferable to matte paint because of its light-reflecting capability.
Glossy surfaces bounce light back rather than absorbing it, giving the kitchen a more spacious and bright appearance.
As a result gloss finish worktops are also incredibly popular in smaller sized kitchens.
Most commonly, white surfaces are able to deliver the maximum shine.
Gloss finish's bright, light-reflective nature ensures that the worktop surface appears distinct from every angle.
It's a great option for homes that want to create a more dramatic and stunning decor.
Maintenance and Cleaning of Gloss Finishes
While the specific cleaning and maintenance demands of a gloss worktops would be determined by the type of material used.
The finish will have an impact on how often you need to clean the worktop.
As previously mentioned, gloss surfaces are better at hiding fingerprints and stains than matte worktops.
Resulting in the daily cleaning workload to be much less with gloss worktops.
But equip yourself with a standard microfibre cloth and some chemical cleaning liquid and either surface will look brand new.
That is, once you've provided some minor treatments.
How To Get A High Gloss Finish On Your Kitchen Worktops
Put The Shine Back On Your Gloss Worktops.
Begin by washing the scuffed region of your worktop with warm, soapy water.
Use a soft cloth to wipe away any dust or stains that have already begun to collect in the scratch.
If the scratch is still too difficult to remove, try rubbing some alcohol on it.
Once the area is dry, use a clean cloth to apply furniture paste wax to remove scratches from your gloss worktop.
If the scratch is deep, continue to work into it.
Allow the wax to dry for a few moments.
A new cloth may be used to buff the remainder of the worktop.
This will help ensure an even appearance across the entire surface.
When gloss surfaces are first installed they look immaculate.
But oh boy do they take some work to keep that mirror gloss shine.
To get back that new shine, it'll require some elbow grease, unless your cleaning cloth is spotless.
A cloth that is carrying some dirt or debree can often make smears and smudges worse.
The process can be quite strenuous.
If this all seems a bit too much visit Foreman Snags here (https://foremansnags.com).
It might be a job for the professionals.
Keep your gloss finish kitchen looking brand new.
Cleaning Up The Basics
For not-so-annoying dirt, it can be as simple as using warm water and a standard micro-fibre cloth.
It's best to do this before or after cooking or food preparation.
Don't let grease or spills, solid or liquid, to sit and dry on the surface.
They'll be harder to remove once they've dried up.
Furthermore, you'll most likely scratch or mark your beautiful white high gloss work top attempting to remove it.
When cleaning a high-gloss kitchen, you must be cautious.
The last thing you want is self caused shine fade or scratches.
Using The Right Materials For The Surface At Hand
Different types of gloss materials have varying resistant property degrees.
These surfaces, on the other hand, should never be treated with abrasive materials due to the risk of causing harm.
Instead, high-gloss surfaces should only be cleaned using a soft microfibre cloth that can be purchased in supermarkets.
Microfibre is scratch-resistant, you won't have to worry about damage to your contemporary kitchen surface.
It's made of tiny synthetic fibers, which are smaller than those in a regular cleaning cloth.
The tiniest speck of dust and grime adheres to the hundred thousand tiny fibers, ensuring that the cleaning cloth doesn't miss a thing.
Using The Best Cleaning Solution
If you think you have take a trip to a specialist store, to collect overpriced cleaning solution with super-power like ability.
Think again!
Depending on the job.
90% of the time, all you need is water.
That is correct. Water.
Luke warm water will often be your saviour when revitalising your gloss kitchen worktop.
However, other kitchen companies recommend using strong cleaning products with numerous chemicals.
However, this is not advisable.
Why?
Strong chemicals that are found in detergents, can lead to damages on the glossy finish.
Commonly shine fade.
This can be one of the biggest killers for you gloss finish on your kitchen worktop.
Using The Right Technique
Using the proper approach, your kitchen worktop will be left looking fresh clean and revitalised.
Soak the microfibre cloth in lukewarm water and wring it out until it's merely damp.
Too much moisture and you can leave behind residual marks and smears on your once glossy surface.
With an "S" motion, wipe the surface gently.
If there are tougher stains, you will have to employ some light force.
It's easiest to remove stains and marks as soon as they happen.
Don't allow time for them to dry and age.
This allows for time for it to become embedded deeper into the surface.
Keep A High Gloss Finish On Your Kitchen Worktops
By combining all these elements, you'll be able to keep your high-gloss kitchen countertops.
It's not difficult to maintain its gleam.
All you need are the appropriate equipment and expertise.
So go ahead and improve your kitchen just in time for the holiday season!
If you feel as though you want to make sure the job is done properly.
Head over to Foreman Snags here (https://foremansnags.com)
And make sure your kitchen gets the love it deserves.